Your spa is a significant investment in your health and overall lifestyle. That's why it's so crucial to take care of the system with help from the professionals. It can be beneficial to the longevity of your spa to schedule regular maintenance. Hot tub and swim spa service can encourage optimal performance while ensuring that the system is operating properly. A highly experienced service technician will be able to accurately identify any problem areas or future repairs before they have the time to develop into a larger issue. Contact Twin City Jacuzzi to learn more about our swim spa and hot tub maintenance solutions or to request our quick and reliable services in St. Louis Park and Burnsville today.
Why Trust Twin City Jacuzzi?
Our team of spa service professionals has many combined years of experience. We have worked with countless brands, from industry leaders to up and comers and everything in between.
With years of experience in hot tub maintenance and warranty-covered repairs, our team is more than qualified to complete the necessary repairs. We can inspect your spa to find the issue, order the hot tub parts from a trusted source, and then complete the repair in a quick and efficient manner.
Our team of experienced and certified technicians are here to assist you with your every need.
Common Service and Repair Problems
With years of experience in spa service and repair, our technicians have truly seen it all. Some issues, more than others. If you're experiencing any of the service and repair problems below, know that you are not alone and that our experts are more than capable of combating the issue and bringing your hot tub back to life. In some instances, the issue at hand isn't so easy to diagnose. Our team is prepared to give your spa a full inspection and troubleshoot the issue until we get to the root of the problem. We will always keep you in the loop through open and honest communication.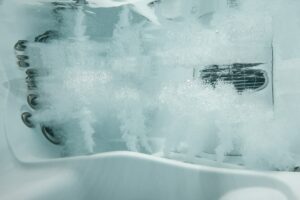 Cloudy Water
Cloudy water is often a result of an imbalance of chemicals or a clogged filter. Our team will test and treat the water, then clean the filter.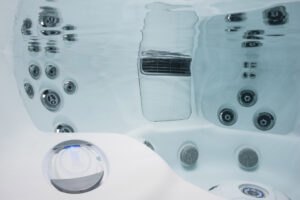 Cold Water
Is your hot tub anything but hot? This could be related to an issue with the heating or circulation system.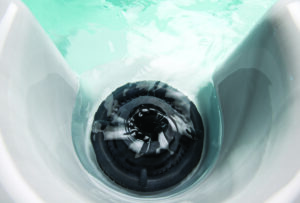 Still Water
Often a result of an issue with clogged jets or the circulation system, not only is still water not enjoyable, but it also creates the perfect breeding ground for bacteria.
Your issue wasn't answered above?
Check out our frequently asked questions page to see if your question has an answer that could be a solution to your issue.
Water Care Products for Your Spa
Twin City Jacuzzi sells top quality hot tub and Jacuzzi chemicals in Minnesota. The primary brand of chemicals we supply to our clients is Leisure Time chemicals. Most of our clients want to keep their hot tub clean and sanitary by using the best chemicals available. It is sometimes difficult to understand how spa maintenance works and which products to use for your hot tub, but we can help you find the products you need at an affordable price.
Contact us today for more information about the hot tub chemicals we sell, or for information about what you will need to get started using these chemicals in your hot tub. We are experts at keeping hot tubs clean and sanitary. Our staff will be happy to help you decide which products are best for your needs and give you information on how to use them properly.

Jacuzzi® Water Care
If you own a Jacuzzi® hot tub, you want to properly maintain it with the right chemicals. You will need to check that the pH is being controlled every couple of days to ensure the best quality water. Use test strips about two times per week to monitor the chlorine and pH levels. You will also need to make sure they are balanced. When adjusting hot tub chemicals, you must make sure to adjust the alkalinity, the bromine or chlorine sanitizer, the calcium hardness, and the pH. This must be done one at a time, 2 hours apart, for the most effective results and to minimize unwanted chemical reactions. It is important to stay stocked up to keep your hot tub clean and balanced.

Leisure Time Water Care
Leisure Time chemicals are the premiere name brand in the hot tub and spa chemical industry. They have continued to improve the quality of their chemicals for hot tubs over the past 25 years. Many years of innovation have gone into the product line, packaging, and program behind Leisure Time chemicals. These spa care products include accessories, balancers, clarifiers, sanitizers, spa care kits, and test strips. Leisure Time chemicals offer a simple spa care routine that gives hot tub owners an easy way to maintain their spa and spend more time enjoying the benefits. They offer an easy sanitizing system that will keep your spa clean and fresh.
Request hot tub or swim spa service and repair by completing the form below. One of our hot tub service technicians will be in contact with you shortly.